MUMSWHOCODE CONFIRM SPONSORS FOR THE DIGITAL WOMEN BOOTCAMP COHORT 4
MumsWhoCode is pleased to announce Tech Impact Club Africa and Pushup Africa Initiative as sponsors for our Digital Women Bootcamp Cohort 4, running from 12 September - 5 November 2022.
About Tech Impact Club Africa:
Tech Impact Club Africa is an organisation working to bridge the networking gap across the tech ecosystem in Africa. The organisation's focus is to bring like-minded people together, using technology to forge a synergy of qualitative and lasting connections that will positively impact Africa and its rising tech industry.
We are delighted to have Tech Impact Club Africa sponsor the Digital Women's Bootcamp again with a 3rd grant. As with previous cohorts sponsored by the organisation, support received for cohort four will go towards running the Bootcamp and providing special internet data stipends to participants needing assistance (to reduce barriers to learning and participation).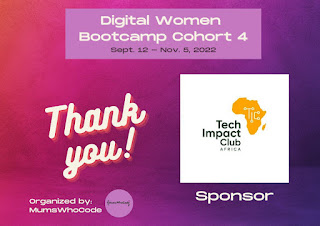 You can find out more about Tech Impact Club Africa and their innovative work here: https://techimpactclub.africa.
About Pushup Africa Initiative:
Pushup Africa is an e-learning platform on a mission to help ambitious young people gain the digital and soft skills they need to become career professionals or entrepreneurs. To accomplish this, the platform provides expert-led courses, mentorship programmes, events on business and workplace operations and more.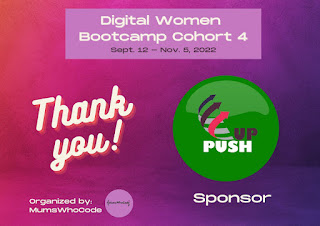 With a focus on skills and knowledge development, Push Africa seeks to educate, enlighten and add value to the lives of young Africans by equipping them to seize opportunities available to them in various industries and sectors.
Pushup Africa will also be providing a free mentorship session for all participants of the Digital Women Bootcamp; providing soft skills training for landing entry-level jobs and career growth.